The first French bulldog Apollo, alias Bob, came to us in 2005 as a friend to our Persian cats, whose Jana bred for more than 25 years. Jana's cats were regularly winning cat shows and competitions; Aglaos Cats was awarded The Best Cattery of the Czech Republic in 2000.
Later on, a female joint our first male. Angel Baby Aglaos, a female from our first litter, initiated our breeding possession.
In these days, a couple of Frenchies from our and other well-known kennels live with us. They mostly come from prestigious bloodlines and are pretty successful in shows. Puppies from our kennel live in various countries around the world, for example in Austria, United Kingdom, Finland, Germany, Belgium, Poland, Norway, Philippines, Russia, Slovakia, Sweden, Switzerland, Spain, South Africa, Cyprus, Kyrgyzstan, Denmark, Italy, USA, Canada, Japan, Indonesia, Romania, Belarus, Latvia, Bulgaria or Colombia. We're in long-term touch with most of new owners and are always happy to hear their dog friends are doing well. We proudly follow up successful show carrier of many of them and happily publish their snapshots and records at our website.
We put big emphasis on health of our dogs. Our Frenchies are tested for patellar luxation, hearth defects (Doppler) etc. by veterinarians specially licensed for these particular exams. We strive to breed not only nice and playful but above all healthy puppies. We don't breed for quantity but for health and improvement of our beloved breed.
We're in contact with many other breeders from the whole world.
Jana was eight years a member of the board of Moravian-Silesian Bulldog-Mops Club MSBMK and worked as a Regional Breeding Advisor. Club MSBMK is member of the Czech association CMKU - member of FCI.
We hearty invite you to browse our website and we'd be happy if you enjoy it. You can visit us at Facebook as well. Would you have any question on our French bulldogs, puppies or breeding Frenchies at all, don't hesitate to contact us.
My friend Alena and I went through many European countries to exhibitions or to cover our bitches....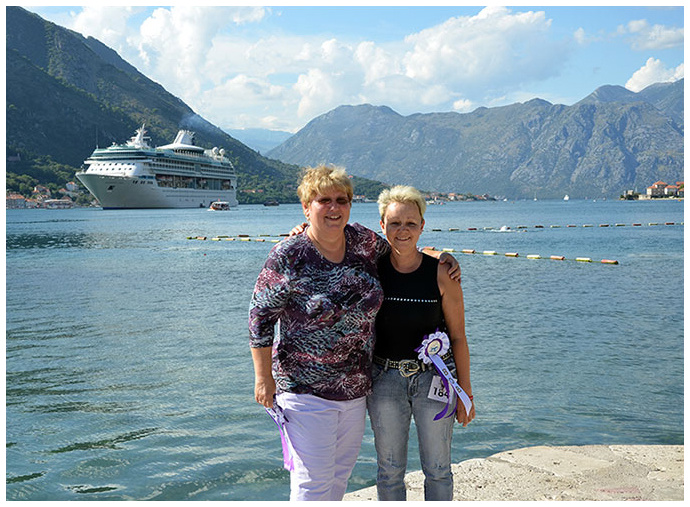 Aglaos puppies live in many parts of the world...